EXPERIENCE ELITE SERVICE ON THE MOST
LUXURIOUS MOTOR COACHES IN MINNESOTA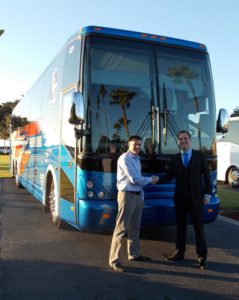 Lorenz Bus Service, a Minneapolis based motor coach transportation-company, recently acquired two of the most modern and state-of-the-art motor coaches from ABC Companies in Faribault, MN. Manufactured by Van Hool in Belgium, these T2145L motor coaches are expected to change motor coach travel within Minnesota.
With a retail cost upwards of $600,000 per motor coach, these "Elite Motor Coaches" have the most advanced technology and amenities available to date. Each of the motor coaches provides an unmatchable multimedia entertainment experience through WiFi, 110V outlets, REI Elite Sound and DVD system, 15-inch monitors, cordless PA system, iPod connection, and individual reading lights.
The luxurious feel provided by the Van Hool body line black leather seats, accented with blue piping, the wood grain flooring, the enclosed parcel rack doors with pewter handles, the adjustable roller window shades, and the aisle and step-well LED lighting, is beyond compare.
The motor coaches also feature the latest safety technology including: three-point seatbelts, electronic stability control, automatic traction control, fire detectors in the engine compartment, energy absorbing bumpers, remote control heated mirrors, cornering lights, and the ITERIS Lane Departure Warning System. By far, the Lane Departure Warning system is one of the most sophisticated safety features, which uses sensors to track the vehicle's position on the road and alert the driver through seat vibrations if the vehicle isn't being operated consistently within the pavement lines.
To ensure accessibility, the motor coaches are equipped with front kneeling systems, Ricon ADA wheelchair lifts with movable seats and tie downs, parcel rack hand rails along the isle, and seat handles for balance control while entering and exiting the motor coach.
Lorenz also chose to equip the motor coaches with an extra restroom holding tank to reduce on-board odors, a preheater, pro-heat auxiliary, and pro-heat timer to keep the engine warm on overnight trips during the winter, a 231 gallon fuel tank to reduce stops on long distance trips, and a rear window, two piece front windshield, and thermopane windows to provide the most expansive and clear scenic views.
Lorenz plans on marketing these motor coaches to corporate motor coach users in the Twin Cities as well as high-end touring groups. Thus far, Lorenz has found these motor coaches to be in very high demand, so try to reserve them early. Be sure to visit the Elite Motor Coach gallery on our webpage to learn more.