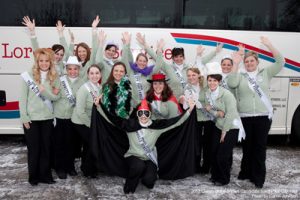 Lorenz Bus Service provides charter bus and motor coach rental service for a variety of clubs and groups in the Minneapolis St Paul area, including choirs, bands, church and civic groups, and quilting clubs. Due to our diverse fleet of buses and motor coaches, we can serve all types of customers.
Lorenz deluxe buses and motor coaches come equipped with a bathroom, DVD player, WiFi, and DirecTV. We can also install tables on most motor coaches at your request. Additionally, many of our buses have large luggage bays that can accommodate many types and sizes of musical instruments and equipment.
Wherever your group or club decides to go, we'll make the journey just as memorable as the destination.