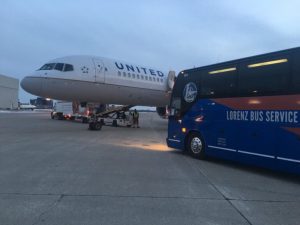 For clients using the Minneapolis Saint Paul Airport (MSP), Lorenz Bus Service provides airport transportation and group coordination, from meet and greet to full airport transportation service with shuttle buses and motor coaches for large conventions and corporate meetings.
To ensure each guest's arrival is in time for the meeting or convention, Lorenz Bus Service provides comprehensive airport transportation management and planning services. In the planning stage, Lorenz requests a list of the hotels and a group flight manifest to determine the number of greeters, baggage handlers, and vehicles needed to ensure that the needs of every guest are addressed with each shuttle bus trip.
Then our experienced project managers will work closely with corporate meeting planners to handle the airport shuttle logistics:
Develop the bus routes from the airport to various hotels
Determine the frequency with which motor coaches, buses, and other vehicles will arrive and depart the airport or hotels
Decide the level of bus service that best suits your guests' needs
Color-code each hotel/terminal and number the buses' baggage doors to ensure each bag reaches the appropriate hotel/terminal
Placement of event signage throughout the airport, hotels, and on the shuttle buses and motor coaches
At the airport, the guest experience will be as follows:
Guests will see a hospitality kiosk with a personalized scrolling message when they arrive at baggage claim, and/or they will meet a greeter, who will be holding event signage
Depending on your preference, the greeter will either
Escort guests onto the tram and to the transit center
Instruct the guests on how to get to the transit center
Baggage handlers will meet the guests to color code and load baggage into the right luggage compartments of our vehicles
In addition, our project managers will monitor the flight manifest to determine if there are any flight delays, cancelled flights, or any other potential issues. The project manager will then adjust the airport shuttle transportation plan accordingly or work with your event planner to determine the appropriate course of action.